More than one perspective
A social start-up shows how integration works successfully. What started on a small scale is a prosperous business today.
Integration. How academic refugees experience the process of finding employment in Austria. What is strange to them, what helps them. And how they hold up a mirror to us.
From Aleppo to Lebanon. Continuing on to Turkey, then to Greece by ship and Austria by foot, taxi and bus. Mohamad Bilal Abdulkarim (31) has come a long way. In 2014 he had just started a master's course in financial management in Aleppo – but then: "At first the bombs were limited to the outskirts of the city. Then they got closer and closer. And became bigger and bigger."
There was only one option: Get out. Abdulkarim reached Austria in November 2014 with a clear plan in mind: to learn German, receive asylum status, and work while finishing his studies.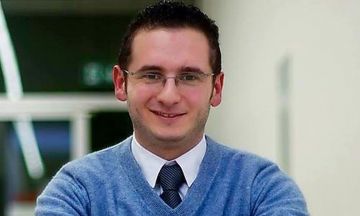 At a glance
Conventional Austrian formalisms often prevent refugees who are willing to work from entering the labour market. Syrian Mohamad Bilal Abdulkarim (31, image) was coached by the social start-up More Than One Perspective (MTOP) to get fit for the job.
MTOP is an innovative social business which aims to help refugees integrate into the labor market on a sustainable basis. As part of a 200-hour program, they will be prepared for job entry in Austria. Alongside MTOP, organisations including the Austrian Public Employment Service AMS, work:in, fairMatching and Caritas CarBiz help refugees find employment.
He does not tire of stressing that Austria has been good to him. "Austria has been very generous," he says. At the same time, he holds up a mirror to how we are perceived from the outside. He spent eight months in a refugee home in Linz. "I wanted to learn German. But there weren't any organised courses. Only retirees who wanted to help." So he taught himself the beginner's level, A1. Then he came to Vienna after receiving asylum status. The employment service ordered him to attend German courses – A2 and later B1 ("better beginners"). His goal was B2, "because below that you won't get a job".
Abdulkarim repeatedly emphasises that he has achieved B2 level in the meantime. He has also learned the importance of formalisms in Austria. Candidates that lack B2 level competencies in their CV are automatically discarded.
Formalisms count
For a while he wondered why he still wasn't getting any replies to his applications. Until he realised it was because he was still unable to write a perfect letter of motivation. "We don't have that in Syria. Your CV is all that counts there." His self-written cover letters did not conform to the rules, his German was awkward and English was not required. He didn't stand a chance.
Abdulkarim would not have been able to enter the labour market by himself, at least not as fast. Thanks to social media and various websites he did, however, come into contact with MTOP (More Than One Perspective), a further education programme for academic refugees – preferably those with business, IT and technology backgrounds – that has grown out of Teach for Austria.
The primary content in the programme: How does the Austrian system work? Formalistically, as the Syrian man was soon to learn. Letters of motivation that comply with strict rules, competence boxes that need to be checked off. Processes that look for faults (he who seeks will find) rather than opportunities. Doors that stay closed for fear of risk. "You have to knock on many doors until one opens," he says.
Julian Richter, Lisa-Maria Sommer, Nina Poxleitner and Haia Haddad (from left to right) are among the winners of the Austrian Social Impact Award 2017 with their project MTOP.

The business magazine "Forbes" includes two of the founders in the 2018 ranking of the 30 most important Europeans under 30.
Or you find someone who knocks for you. Thanks to the MTOP network, the door to auditing firm Deloitte opened for Abdulkarim, initially as part of a project, now as a chance of getting a (funded) internship. On top of this, he was offered an accounting course that conforms to Austrian rules. Later he hopes he will get a permanent position. After two and a half years in Austria.
A matter of perspective
Abdulkarim understands why companies are afraid of taking chances. The solution is to get help from agencies (see box for examples) that know their candidates personally, having already checked out their qualifications and motivation. A sort of inplacement programme for refugees, but actually it's just a matter of perspective: If circumstances were different, the very same people would be highly appreciated – as expatriates.
First published on 8 July 2017 on diepresse.com.
Translation from German to English by Barbara Maya.
This text is protected by copyright: © Andrea Lehky. If you are interested in republication, please contact the editorial team.
Copyright information on pictures, graphics and videos are noted directly at the illustrations. Cover: Excerpt of the video Every bit counts © Social Impact Award / 3etter.
Social Impact Award
Let's change the world together
Social Impact Award, founded in 2009, runs education and incubation programs in more than 20 countries in Europe, Africa and Asia to support early-stage social entrepreneurs in developing and implementing innovative business solutions to tackle the most important societal challenges of our times. Through Social Impact Award hundreds of social business have been started and thousands of young talents have been inspired to take on a career in social entrepreneurship.
Your application for the Social Impact Award 2018
Do you have an idea that can help other people? Submit it now and become part of the SIA family! The application is possible on the website of the respective country organization or on the international website until 30 April.
Get started. Make an impact. Every bit counts.
www.socialimpactaward.net